Episodes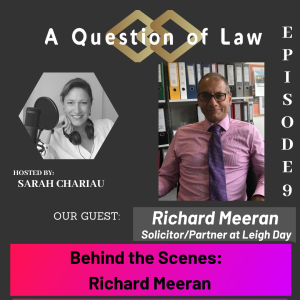 Wednesday Mar 17, 2021
Wednesday Mar 17, 2021
In this episode of A Question of Law, our returning guest, Richard Meeran, will reveal the driving forces that have fuelled his determination throughout his career and have led him to pioneer an area of law for which he is world-renowned.
This second special edition of the year in our podcast series will focus on Richard's motivations to become a lawyer, his encounters with discrimination and racism, his deeply felt sense of injustice and how those have shaped his career. Full of purpose, insight and advice, this episode will allow us to look behind the scenes to unveil the deep reasons which drove Richard to develop the concept of corporate liability for multinational parent companies. His inexorable passion will become evident when he talks about the cases that have marked his career and the depth of his attachment to Leigh Day's ethos. However, he will also reveal how he has tackled his most significant hurdle, the importance of placing victims' interests at the centre of litigation and the self-belief required to be successful. Finishing this episode with precious advice for aspiring lawyers based on his own experience, he will also divulge how he likes to unwind after a long week.
This podcast is personal and insightful, and I feel incredibly privileged to have had the opportunity to shed light on the personal thoughts of a, usually, very private lawyer!
Thank you.